For the second straight month, single family homes sales volume in the Flagstaff area has declined when compared to a year ago. There were 91 homes sold in August of this year, down from the 105 sold in August 2017. Affordability continues be a struggle for buyers as homes values and interest rates continue to rise. Add the limited inventory levels into the mix and it makes sense why sales are slowing.
Nationwide the housing market is very similar. The National Association of REALTOR®s released the statistics for August. Overall sales are down 1.5% from a year ago. The monthly sales report from NAR gives an insight into the national trends. According to Freddie Mac, the average commitment rate for a 30-year, conventional, fixed-rate mortgage increased to 4.55 percent in August from 4.53 percent in July. The average commitment rate for all of 2017 was 3.99 percent.
Interesting times and we will continue to keep an eye on the numbers. See below for the Flagstaff area sales.
Single Family Flagstaff Home Sales – August 2018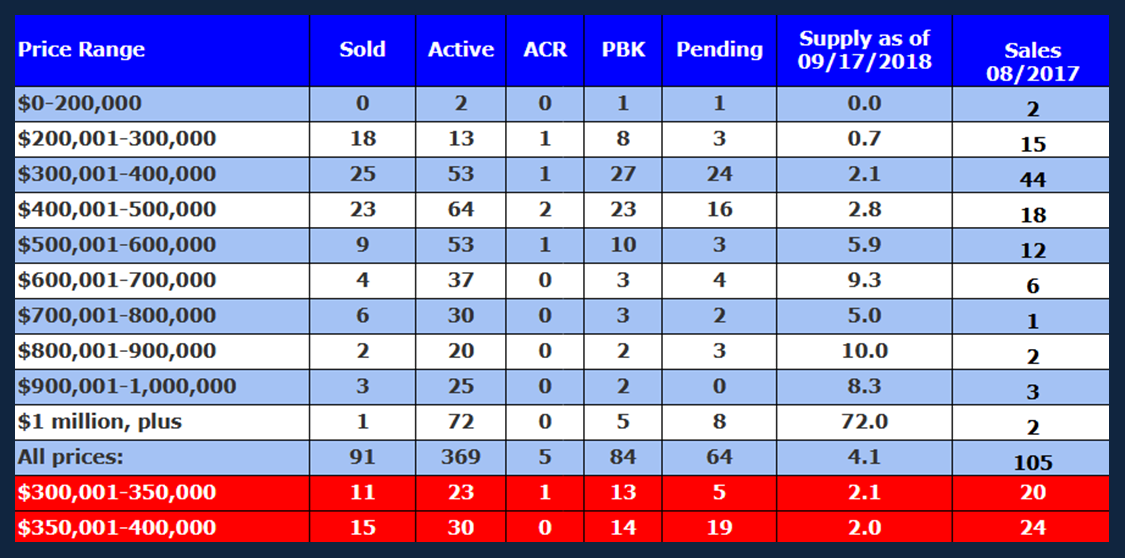 NOTE: ACR = ACTIVE CONTINGENCY REMOVAL, PBK = PENDING TAKING BACKUP. THE DATA REPORTED HERE ARE BASED ON HOME SALES IN THE FLAGSTAFF METRO AREA (THE CITY OF FLAGSTAFF AND IMMEDIATELY SURROUNDING COUNTY AREAS) AS REPORTED IN THE MULTIPLE-LISTING-SERVICE MAINTAINED BY THE NORTHERN ARIZONA ASSOCIATION OF REALTORS.® THE DATA MAY NOT REFLECT ALL SALES (BUT IT SURELY REFLECTS MOST OF THEM).
To buy or sell a Flagstaff home, you need more than the general advice in this blog. That is where we can help. Contact The Elite Team at RE/MAX Peak Properties – Give us a call at 928-714-0001 or send an email to info@bestflagstaffhomes.com for experienced, professional advice on purchasing or selling a home in Flagstaff.