For the third consecutive month the sales volume is down for single family homes in the Flagstaff area compared to the sales from the same months in 2017. We had 81 sales this past September, down significantly from the 112 sales in September of 2017. Nationwide sales are down, and most markets are experiencing a similar theme. High sales prices, rising interest rates, and low available inventory weigh heavily on buyers decision making process. Buyers are becoming increasingly concerned about the affordability of owning a home. The nationwide sales report by chief economist Lawrence Yun with the National Association of REALTOR®s gives additional details on the real estate market.
The median sale prices for single family homes sold in September was $394,000, down from the $410,000 we saw in September 2017. We are working on sales numbers for the 3rd quarter and will publish those in our newsletter due out the end of October. Please contact us if you are not currently receiving our newsletter. We can email or send you a copy in the mail.
Below you will see the sales numbers for the month of September. One interesting note, there were 6 homes sold over $1,000,000 with 12 more pending sales. There were also 27 town homes and 13 condos sold this September.
Single Family Flagstaff Home Sales – September 2018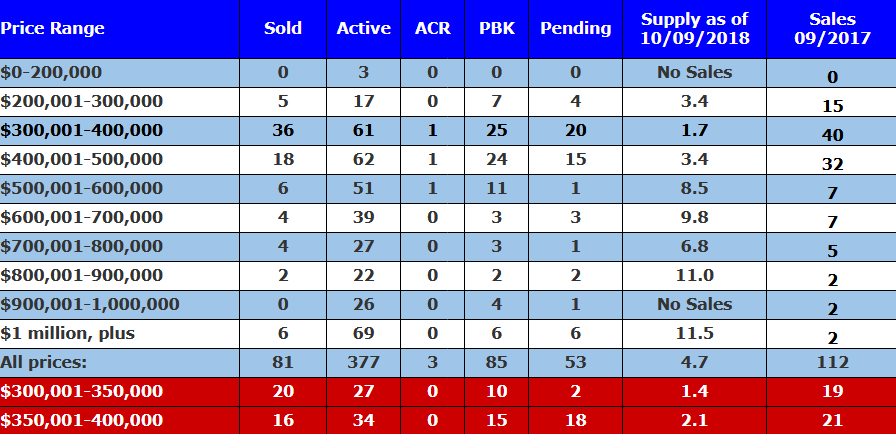 NOTE: ACR = ACTIVE CONTINGENCY REMOVAL, PBK = PENDING TAKING BACKUP. THE DATA REPORTED HERE ARE BASED ON HOME SALES IN THE FLAGSTAFF METRO AREA (THE CITY OF FLAGSTAFF AND IMMEDIATELY SURROUNDING COUNTY AREAS) AS REPORTED IN THE MULTIPLE-LISTING-SERVICE MAINTAINED BY THE NORTHERN ARIZONA ASSOCIATION OF REALTORS.® THE DATA MAY NOT REFLECT ALL SALES (BUT IT SURELY REFLECTS MOST OF THEM).
To buy or sell a Flagstaff home, you need more than the general advice in this blog. That is where we can help. Contact The Elite Team at RE/MAX Peak Properties – Give us a call at 928-714-0001 or send an email to info@bestflagstaffhomes.com for experienced, professional advice on purchasing or selling a home in Flagstaff.